Historically and to this day, the West Coast Trail is home to many First Nations people. I am grateful to the Huu-ay-aht, Ditidaht and Pacheedaht First Nations for allowing us to pass through their lands so that we can experience a glimpse of the raw and untouched beauty that is found along this trail. It is trecherous, and not for the faint of heart and has even been coined 'The Graveyard of the Pacific' due to multiple shipwrecks back in the 1800-1900s, due to the rough rocky conditions and dense fog. It wasn't until 1906 when the Valencia shipwrecked and killed 100 people that the Canadian government decided to make it safer by adding lighthouses and life-saving stations but ultimately the route was abandoned. In the 1970s, hikers began to discover the trail and it was then included in the Pacific Rim National Park in 1973. From 1970-1980, Parks Canada restored and upgraded the trail adding bridges, cable cars, ladders and boardwalks, giving us the opportunity to see this majestic land.
Today there are over 70 ladders, 130 bridges and 4 cable cars! While the map tells you the trail is 75km, expect closer to 100km in total to account for all of the obstacles and detours you tend to encounter.
Take a peek inside our West Coast Wonderland!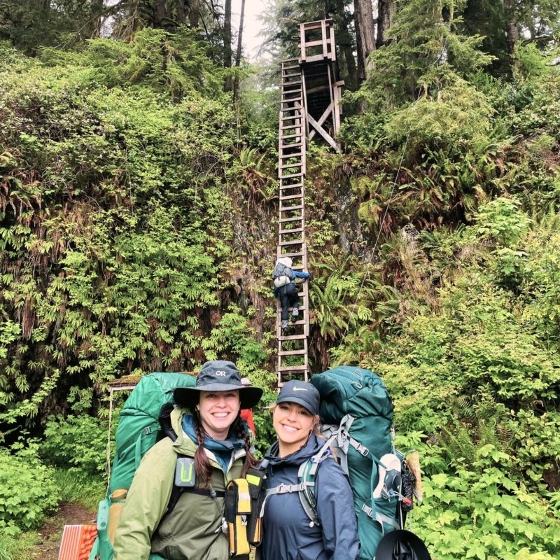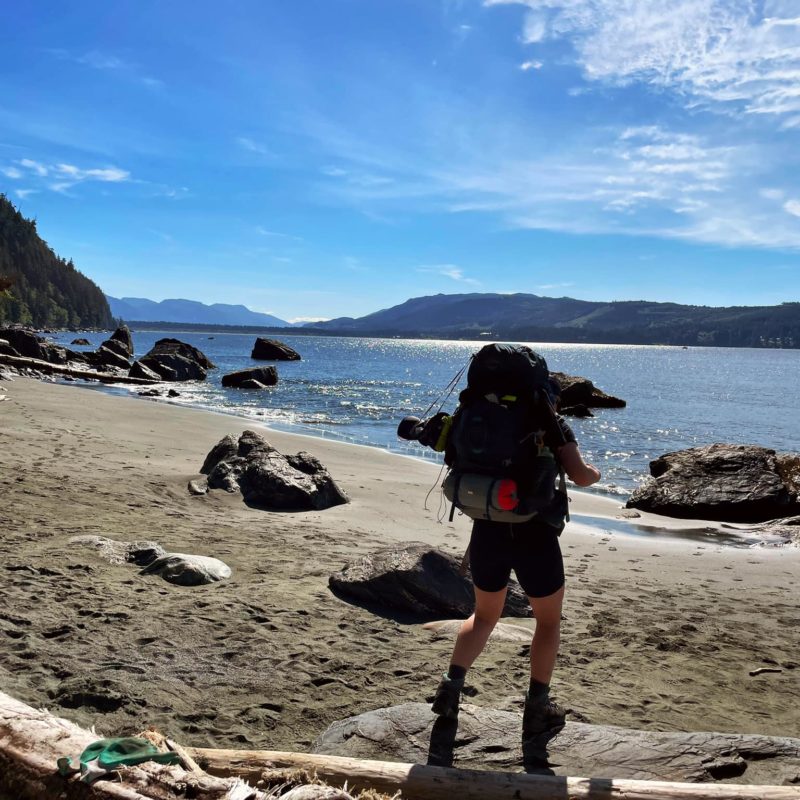 We planned our expedition for June 6-13, giving us lots of time to sightsee and enjoy our time out on the trail. We didn't want to be rushed and we wanted to leave some leeway for plans B through D (as all over-preparers do). The weather was forecasting about 10-14 degree days and 6-8 degree nights mixed with rain and cloud for the most part—with one sunny day, yay! Our trek began at the South point, Gordon River, heading North to finish up at Pachena Bay.
Day 1: Gordon River to Thrasher Cove
I didn't really weigh my backpack for a final number at the trailhead but if I were to guess, I'd say it was around 50 pounds. I packed what I thought I needed and couldn't live without and in hindsight, I did really well with just about everything except FOOD! Both of us drastically over-packed our food by about 1 extra meal per day and boy did we ever pay for that oversight. The trail starting from the South end is very technical and takes about 1 hr/km on average for the first 3 days. Most people who start at this end stop at Thrashers for the first night and that's exactly what we did. After the 10 am orientation, we hit the trail and started hiking at about 11 am. That first day, it took us a solid 6 hours to travel 5km. Once we got to camp and set up our tent, we had a minute to catch our breath and reflect on it. I think we were both in shock at how difficult and technical the terrain was and how steep the ladders were coming into camp, especially on tired legs. My best friend Sofia and I share a few things in common and one of them is that we don't give up. Not ever, not on anything, so we both knew we'd need to muster up some grit, strength and determination to get through the next few days.
Day 2: Thrasher Cove to Camper Bay
This was one of my favourite days! It was half boulder route (with a bit of beach) and half inland. Lots of hopping and climbing on giant boulders and huge driftwood logs! Very technical but I enjoyed this kind of technical. I was thankful for dry rocks and a blue sky day to hike through that day. We timed the tides properly and we were able to get to Owen Point, which is a well-hidden area of sandstone caves carved out by the ocean. Centuries of crashing waves have carved giant windows that you can walk through at low tide. As the waves crash in, they just remind you of how powerful this space is and the fact that it won't stay like this; in a couple of hours, the place is completely underwater for a whole new world of life to come in and fill the sandstone crevices.
We continued on, passing multiple surge channels, and then reached an impassable headland that forced us up to the inland trail where the trecherous ladders and swamp puzzles were happy to great us. We seriously wondered could it really be like this the whole way?? The answer to that was yep! It could be and it would be until at least Day 6. The boardwalks in this section were completely destroyed, the wood was mostly rotting out and it was surprising that some of these ladders were even still standing. With our 50-pound packs on, it made these ladders extra worrysome for anyone with sensitivity to heights. But we pushed through. Made it to Camper Bay and got ourselves a little fire started. It poured rain that night and into the next day.
Day 3 (& 4): Camper Bay to Walbran
ALL INLAND! The entire day we made our way through endless swamp puzzles. In some areas, the mud was up to your knees. It was all about dodging swamps and climbing down 1km of ladders just to cross a bridge (Culite Creek) then head back up 1km of ladders! BOGS, LADDERS and SWAMPS was the overall theme of this day. We eventually got into Walbran, set up camp, managed to have a fire and got to the most magnificent beach. We had the most breathtaking sunset and made some awesome friends just before the Atmospheric River rolled through. It rained, it poured and it didn't stop for over 24 hours. We made the decision (along with almost everyone in camp) to ride out another day in camp rather than pack/unpack and trek through the downpour.
Day 5: Walbran to Cribs
We woke up rested and excited to get going! We wanted to take the beach route but Walbran creek was in flood from the storm so we hiked up to the cable car. We whipped across and I immediately felt secure about these flimsy little cars—somehow it was the least of my concerns at this point. We were inland for a little bit then we made it to the beach! The sun came out just in time for us to enjoy this moment. I decided to give myself a little bath near Bonila and just soaked up the much-needed Vitamin C.
I was proud of us at this point! Proud of us for mustering up the strength that got us through the last 4 days. Proud of us for supporting each other and excited to know the hardest most difficult terrain was behind us. When we arrived at Cribs, we met up with our Autmospheric River crew and met another big group that was heading South. We had a huge bonfire and recounted all of our stories! It was my favourite night on the trail for sure. We just settled into the sand next to the fire, we laughed and just had the most freeing and real moments—just complete strangers, doing hard shit and having nothing but each other to really understand just how difficult it was!
Day 6: Cribs to Tsusiat Falls
Expecting to be waking up to a sunny day, we were blindsided by RAIN instead! So we scarfed down some oatmeal, packed up our wet gear and headed out. Mostly beach that day but it was a long km day and we knew it. We had one big thing on our mind though…we could finally turn to page 2 of our map (which was our half way point) and THE CRAB SHACK! We knew we'd be getting a warm meal, fresh crab and a big loaded baked potato. That gave us a lot to look forward to. The trail is tough in a sense to decipher kms between camps because it's off by sometimes 3-5kms. So when you think you're close to your destination and you don't actually get to it for another 4km, it's frustrating. We made it to the Crab Shack at 4 pm, 30mins before close! Nestled in Nitinaht Narrows, I was enamoured with the beauty of this little spot. It was the energy boost we needed. We met a few other girls that were also heading to Tsusiat Falls (another 8km on the map so like maybe 10-12 possibly actual kms). We all jumped on the ferry and headed out. It was a grind and it was a close call since the tides were coming in. We had to time our jump around one section between the waves going out and coming in! Had we arrived 10 min later, it would have been a swim. We made it to Tsusiat Falls, covered in mud, grime and the day's sweat…the sweetest couple saw us setting up camp this late and offered us their fire in a cave. It was so generous and honestly saved us some much needed energy. We enjoyed the dry night and slept like rocks in the sand.
Day 7: Tsusiat Falls to Michigan
We started off the day at 5 am and got to see a gorgeous sunrise. It was dry and it was warm and that makes any WCT hiker reallll grateful. This was a moment we wanted to cherish so we slowly sipped our two coffees, took some photos, and enjoyed the falls. We both felt great that day and we were excited to be dry and the trail was much easier to navigate. We powered through that day and made Michigan our final stop before our last day on the trail! We picked out a spot, set up and had ample time to mosey around and soak in the last camp. I bathed in the river and washed a lot of my gear, ate most of my snacks and we had a beautiful fire with all of our newfound friends.
Day 8: Michigan to Pachena Bay
We were ready to rock and roll and excited that this would be our last day on the trail…which meant PIZZA and SHOWERS! We motored through and made it to Pachena Bay in 3hours but not before meeting a group of 3 Black bears that circled the beach. We were about 500m to the end, so we ripped back up the ladders, and made a bunch of noise. Eventually, our hiker friends reached us and we all went down together, completely unscathed, happy and ready to ready for the finish!
I learned so much on this trail, so much about myself and what my body is capable of. I am proud of my bestie, Sofia and her patience with me. Looking back on it now and knowing that we had some difficult weather on top of record levels of rain this past year makes me really grateful for our own strength and grit to get through it all. I wouldn't trade this experience for the world. It was challenging and that was the best part of it. After all, if it doesn't challenge you, it won't change you.
If you ever want to know what you are capable of I would suggest this trail. It will force you out of your comfort zone and it will test you, but it will also offer you a glimpse into this whole other world. A world that is raw, untouched and wild in its own right. It's an experience of a lifetime and I would highly recommed to anyone that craves adventure. To get to that next level, you gotta learn to get comfortable being uncomfortable. Dare to be wild, dream the biggest dreams and go after them with all that you've got!
Things I Wish I Knew
As they say, hindsight is 20/20. Here are a couple of things I wish I had brought: a lightweight collapsable chair, more candy, dried thai honey mangos, a larger and better tarp, and I wish I had learned more knot tying skills!
One thing I didn't need or have time for was my book. I would also change my meal planning to include fewer meals and more snacks. We packed 2 full camper's meals per day thinking we would stop longer for lunch. In practice, we weren't very hungry halfway through our days and preferred to keep eating our snacks instead of taking out the jetboil and making a full meal. We would've been too groggy and felt heavy after that. So bring lots and lots and lots of beef jerky, pretzels, crackers, granola bars, and candy instead.
Lifesavers: Jetboil, beef jerky, fuzzy peaches, rope, compact camping pillow, garden gloves (for the ladders), rain gear, toque, lightweight drybags, water filter, good sandals (I bought some Keens and they are freaking awesome!), cash for the crab shack! A smile, lots of patience and a shit load of determination!
Another TIP: Plan to stop at Stoked Wood Fired Pizzeria & Market in Shirley on your way home! Their pizza is the best pizza I have ever had in my entire life!
Happy Hiking friends!